FFS® Announces FinTech Alliance Program (FAP)
FFS FAP is eMasraf digital banking ecosystem of complementary solutions that deliver innovation and unprecedented portfolio of FinTech products
Dubai, United Arab Emirates – Wednesday, 3 February 2021, FFS Software Solutions Company LLC (FFS®), the first-choice software provider of financial software solutions, announced today the "FinTech Alliance Program", an eMasraf digital banking ecosystem of complementary solutions that deliver innovation and unprecedented portfolio of FinTech products.
FFS FAP enables banks to utilize a set of capabilities to implement modern banking by adopting the "best of breed" eMasraf digital banking with its FinTech solutions instantly and fast to deliver a world class experience to their customers. 
"FFS is committed to its client base in the financial industry to deliver eMasraf modern banking solution that allow FinTech product to be connected and bring new capabilities to the eMasraf customer instantly."
Stated Mr. Haitham Al-Faris, Chairman and CEO at FFS®
FFS® COO Mr. Ahmed Samir commented on the announcement stating:  
"Our FAP will ensure the connection and certification of unprecedented fintech product around the world and make them available to eMasraf customer to select."      
FAP Benefits
Grow Your 

Business

Enhance Your Position

Focus on Your Strengths

·       Expand customer base

·       Mutual competitive advantage

·       Increased revenue

·       Market awareness

·       eMasraf's ecosystem of solution partners

·       Brand awareness

·       Technical support

·       Developer training package

·       FAP tested and verified integration
Through API-enablement, eMasraf delivers new level of service capabilities to transform the bank as a marketplace to broaden the scope and reach of product offerings through easily reuse of components and products or allow FinTech's to call specific eMasraf microservices and functions.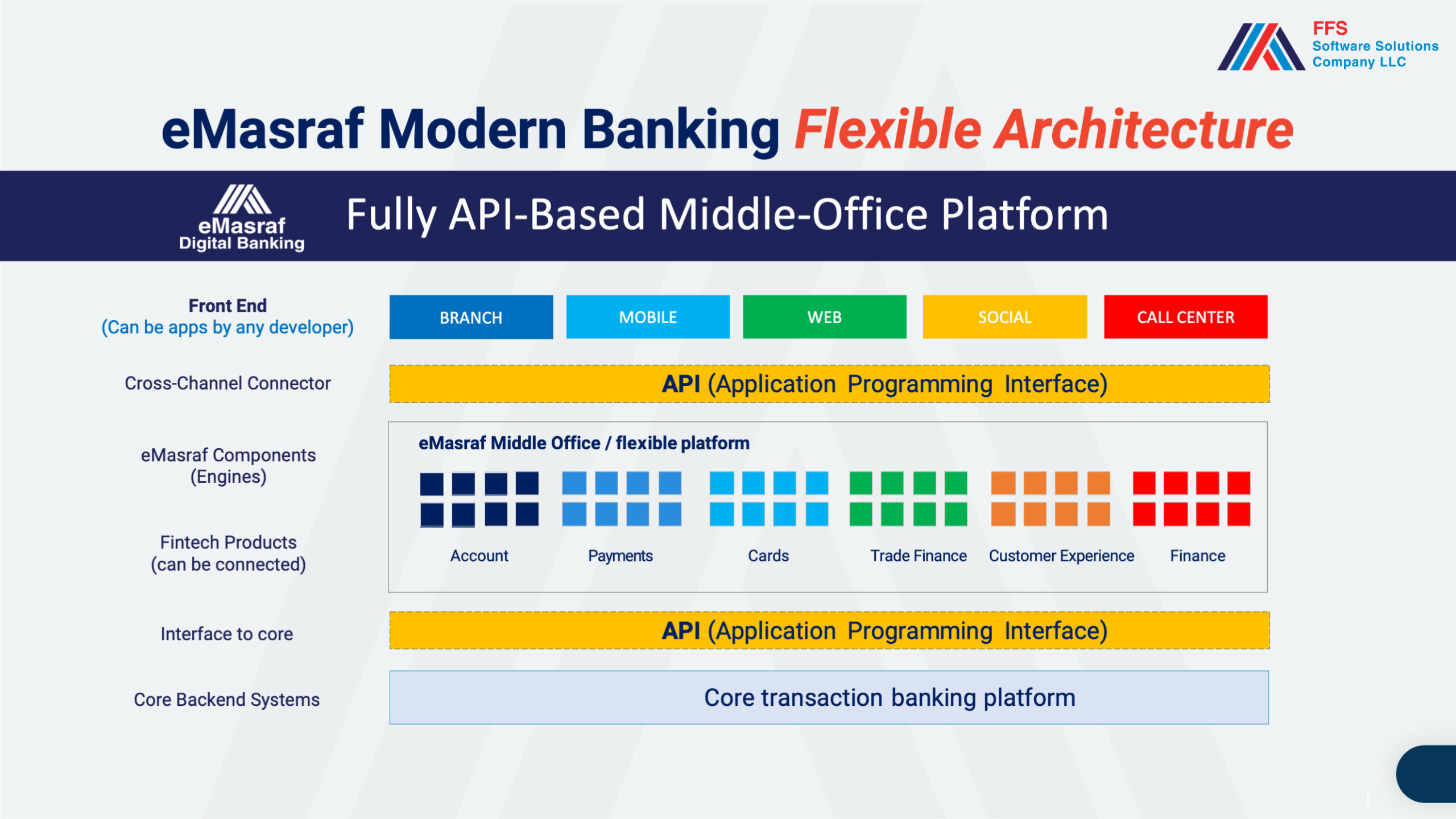 FFS eMasraf digital architecture is critical to provide the functional capabilities banks demand in the short term, but also to maintain relevance in the long term as solution boundaries evolve and compete.
FFS Software Solutions Company LLC (FFS®)is a UAE Company, headquartered in Dubai, with regional offices and presence around the Middle East.
FFS® First Financial Solutions (FFS) is a leading software development and consulting firm focused on making the financial solutions more efficient and effective for commercial, investment and central banks.
FFS® aims to the First Choice financial software solutions provider to financial institutions wherever they are. FFS® will focus on providing solutions to enhance the financial capabilities of banks. For more information, please visit: www.FFSCompany.com
PR@FFSCompany.com
FFS Software Solutions Company LLC
Tel: Operator +971 4 705 0341 | Direct +971 4 705 0342 | Fax: +971 4 705 0301