FFS Signs Reseller Partnership with MasterWorks

MasterWorks is authorized to resell FFS eMasraf Digital Banking solution to the Saudi market
Dubai, United Arab Emirates – Sunday, 17 January 2021, FFS Software Solutions Company LLC (FFS®), the first-choice software provider of financial software solutions announced today the appointment of MasterWorks KSA as an authorized partner to resell eMasraf digital banking solution to the Saudi market.
FFS® has designed eMasraf Cross-Channel CX Digital Banking "omnichannel" platform goes beyond the needs of mobile and online to service additional channels (e.g., call center or kiosks) and engagement methods (e.g. wearables, virtual assistance, and more) with a flexible architectural model that contains a significant middle-office component, built for openness, ease of integration, and cloud- based deployments. 
Through this partnership, MasterWorks will help banks in Saudi Arabia to transform their business process to face digital disruption plus enabling banks with new eMasraf capabilities to launch new products and services digitally within minutes rather than weeks or months, and to respond to customer transactions, interactions and behavior with pre-designed content of products and service.

FFS® COO Mr. Ahmed Samir commented on the announcement stating: 
"We are pleased to announce this partnership. MasterWorks is a respected and reputed company that has all takes to present FFS eMasraf and understand the needs of the financial industry in Saudi Arabia to put together the right solution."      
Stated Mr. Mohammad Hatamleh, Head of Business Development Unit at MasterWorks.
"As part of our technologies landscape diversity strategy, we are delighted to announce our new partnership with FFS eMasraf- Key FinTech company focusing on delivering digital banking solutions that help our clients' bank to meet the digital disruption and perform the right transformation…"
With its modern and flexible digital architecture, and through its API-enablement, eMasraf delivers new level of service capabilities to transform the bank as a marketplace to broaden the scope and reach of product offerings through easily reuse of components and products or allow FinTech's to call specific eMasraf microservices and functions.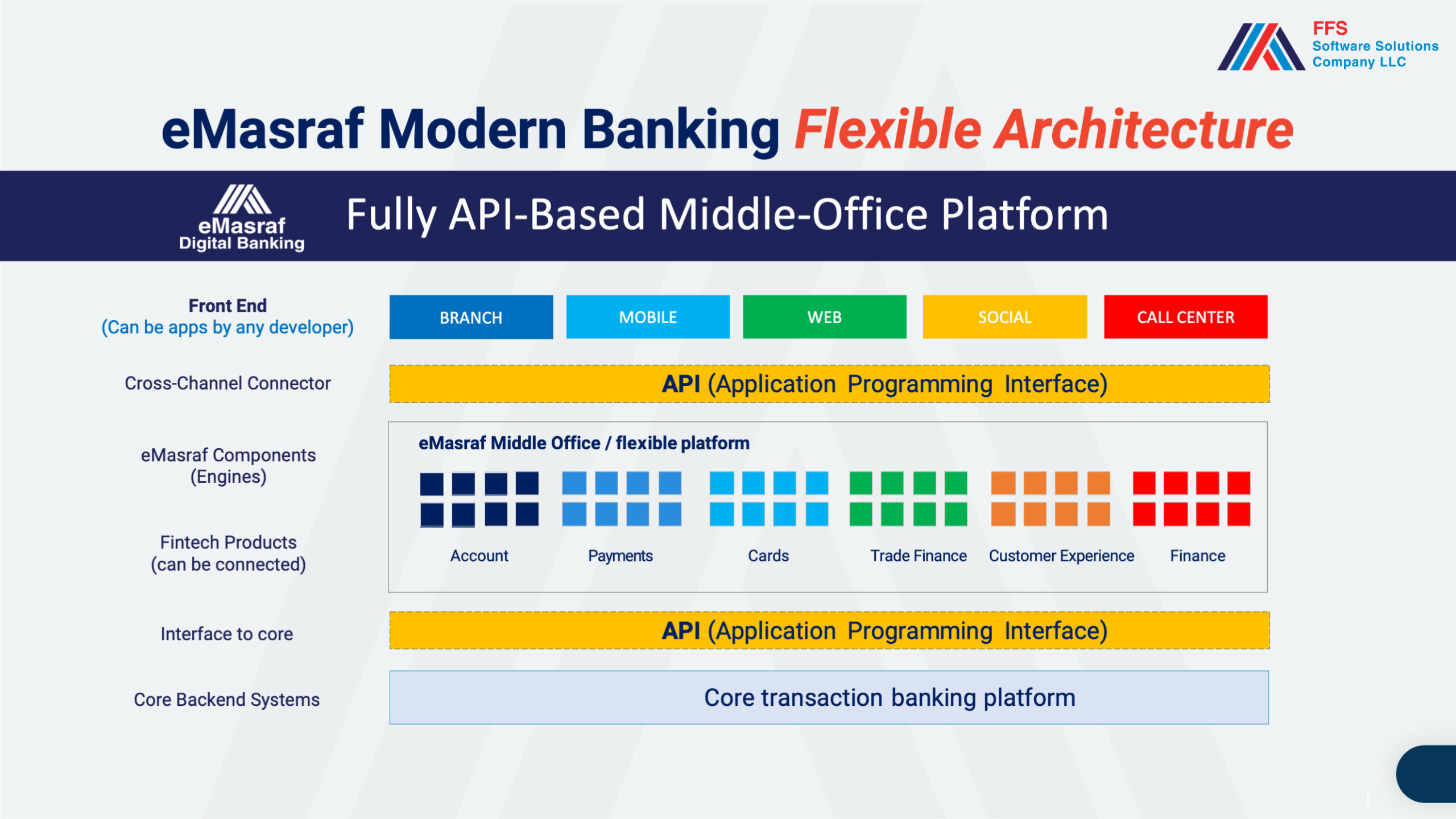 FFS eMasraf digital architecture is critical to provide the functional capabilities banks demand in the short term, but also to maintain relevance in the long term as solution boundaries evolve and compete.
Digital Transformation is changing business expectations, and the business now is in a bad need for leaders in digital Transformation. MasterWorks is your right partner with a unique and exceptional qualifications in the field of Data Strategy, AI and RPA implementations. With more than 17 years in the domains, MasterWorks is leading Enabling DIGITAL and DATA Transformation-based solutions provider. MW's growth to more 130+ customers in the region has placed us in a market leadership position in the domain.
MasterWorks is Providing best of breed Software Solutions, Consulting, Implementation, Support and Training services along to the world's leading technology vendors and methodologies for DWH, Data Strategy and Advance Data Analytics, BI and Digital solution: AI, RPA and Machin learning. We have proven to be key success factor which always conducted by business and technical savvy consultants who can identify needed components that provide the optimal value to your Organization. MasterWorks has a strong presence in Saudi Arabia and the Middle East. We are pleased to respond to the RFP by providing outstanding methodologies and knowledge, based on the NAJM track records in the development of RPA dashboards Data Strategy, Advance Analytics projects.
For more information, please visit: https://master-works.net
FFS Software Solutions Company LLC (FFS®)is a UAE Company, headquartered in Dubai, with regional offices and presence around the Middle East.
FFS® First Financial Solutions (FFS) is a leading software development and consulting firm focused on making the financial solutions more efficient and effective for commercial, investment and central banks.
FFS® aims to the First Choice financial software solutions provider to financial institutions wherever they are. FFS® will focus on providing solutions to enhance the financial capabilities of banks. For more information, please visit: www.FFSCompany.com
PR@FFSCompany.com
FFS Software Solutions Company LLC
Tel: Operator +971 4 705 0341 | Direct +971 4 705 0342 | Fax: +971 4 705 0301